BASELine – Summer 2022
---
Warehouses – So much extra space for your activities!
Warehouses seem like relatively simple structures, but they're not always so. Long-span, column-free space is usually required, and the design can vary depending on what's being stored. Heavy materials, forklift traffic and specialized machinery often require special attention to slab-on-grade strength, durability and levelness. Valuable stored assets could need extra protection from extreme environmental conditions or manmade threats.
---
APB Warehouse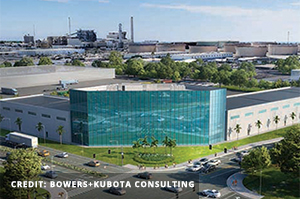 The 82,500 SF industrial development includes two warehouses that intersect at a five-story office building. The exterior walls are tilt-up concrete walls extending up 35 feet. During design, several options for the roof were studied because of price escalations for roof joists.
---
Imperial Zinc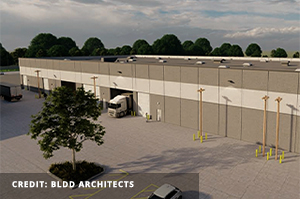 This single-story 49,000 SF warehouse replaces a facility destroyed by a major fire and is constructed of precast concrete wall panels with open web joist and joist girder roof framing. The slab-on-grade is designed primarily as fiber-reinforced concrete except for a conventionally reinforced area designed to accommodate the storage of zinc ingots of up to 4,000 tons.
---
Military Distribution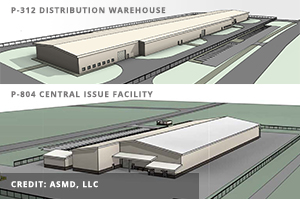 Design-build RFP documents for a 98,300 SF distribution warehouse and 53,600 SF central issue facility in Guam for the Marine build up. Both use precast/prestressed roof framing to accommodate the long roof spans and are designed to wind speeds of 195 mph, Guam's high seismic activity, and UFC 4-010-01 (Minimum Antiterrorism Standards for Buildings).
---
Warehouse Modernization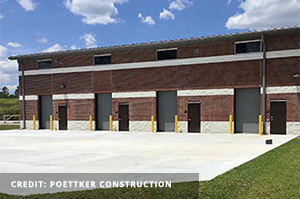 Modernization of an existing 20,000 SF pre-engineered warehouse at Camp Lejeune, NC. Modifications included creation of four storage areas with new roll-up and man doors in the existing brick. Existing steel bracing was reconfigured into new steel moment frames to accommodate the new door openings.